PHYSICS
Master's Degree Programme
About the programme
Language: English (See language requirements) | Place of study: Aarhus | Commencement: August / September and January / February (only Danish applicants)
You adjust the laboratory lasers before going to your next lecture on cold atoms. You feed your computer the latest measurements from the scanning tunnelling microscope, and see if the placement of the extra atoms on the surface matches your model calculation. You do some work on your model for a quantum computer, before going to the next lecture in quantum optics. Or perhaps right now you are at CERN for a week, running experiments with anti-protons to test new possibilities for radiation therapy, or predicting the fate of ultra-relativistic lead ions in the Large Hadron Collider.
Focus on research
Teaching in the MSc in Physics programme is greatly influenced, both in the courses and in the thesis work, by the fact that the lecturers are active researchers. In this context students benefit from the down-to-earth, informal relationship between faculty and students. When students write their thesis, they are connected with a group of researchers and participate in one or more of the group's research projects. Students on the programme have a wide range of options for specialisation, both at the Department of Physics and Astronomy and via the department's close collaboration with the Institute for Storage Ring Facilities (ISA) and the Interdisciplinary Nanoscience Center (iNANO). The department also has research groups working at several institutions outside Denmark, including a number of the major European laboratories.
Student profile
The MSc in Physics programme is open to students with a BSc degree in physics, or another BSc degree in science with substantial physics and mathematics content. The programme is both practical and research oriented and reflects the interests of private-sector companies, research
institutions and the public sector. It is also flexible and can accommodate the interests and strengths of the individual student. Students can specialise within (for example) atomic and molecular physics, solid-state physics, subatomic physics or astrophysics. The programme also qualifies students for a career in research: students may apply for admission to the university's PhD programme either during the MSc degree programme or on completion of the thesis.
Career profile
For many years, graduates from the Department of Physics and Astronomy have generally been able to find jobs immediately. There are numerous career options. A high proportion of recent graduates are now working in the private sector: graduates find jobs in leading consultancy firms and in a wide range of major companies. Increasing numbers of graduates find employment at hospitals; others pursue careers in research and academia.
The following Bachelor's degrees qualify students for admission to the Master's degree programme in Physics:
A Bachelor of Science degree in Physics from Aarhus University, the University of Southern Denmark or the University of Copenhagen.
Other degrees can provide admission to the Master's degree programme, provided the university assesses that their level, extent and content correspond to the degrees mentioned above.
In the assesment of whether a bachelor degree qualifies for admission to the MSc in Physics, Aarhus University considers the following to be important:
The bachelors degree should include at least 60 ECTS course elements within physics and astronomy broadly distributed among the following topics: Mechanics, theroy of relativity, electromagnetism, quantum mechanics, structure of matter, structure of the Universe, and experimental skills.
The bachelors degree should include at least 30 ECTS course elements within mathematics and statistics.
Upon admission further requirements regarding composition of the degree programme may be stipulated.
Language requirements
Since English is the language of instruction in all subjects, all applicants are required to provide evidence of their English language proficiency.
Read how to document your language qualifications
Documentation
Please see the general admission requirements.
Legal right of admission
Students with a Bachelor's degree programme in Physics at Aarhus University have the right to be admitted to the Master's degree programme in Physics on the condition that application is made for admission to the Master's degree programme no later than three years after completion of the Bachelor's degree programme. The legal right of admission requires receipt of the application by Aarhus University within the appropriate period of time.
Selection criteria
As the Master's programme only admits a limited number of students each year, meeting the admission requirements does not in itself guarantee admission to the programme.
Allocation of student places is based on an overall assessment. In evaluating qualified applicants, the admissions committee assess applicants on the basis of the following criteria:
Academic background
Overall grade level – Bachelor's degree
Grades achieved on relevant courses*
Relevant courses* (measured in credit units) included in your Bachelor's degree
* Relevant courses include core courses within the subject areas of Physics, Astronomy, Mathematics and Statistics.
Please note that grades obtained after the time of application cannot be included in the assessment of grade level.
The admissions committee assess each applicant on the basis of the information provided in diplomas, transcripts, and course descriptions.
The Master's degree in physics counts as 120 ECTS credits and mainly consists of subjects within the physics field of study. You specialise by participating in course activities and projects and by writing a thesis. During your very first week, you structure your own individual study programme with the help of a teacher from the Department of Physics and Astronomy by choosing courses from the course catalogue. Your programme is based on your academic qualifications and interests and the subjects you studied for your Bachelor's degree. The plan must be approved by the Board of Studies before you can enrol for examinations.
Find more information about the individual courses here.
If you would like information about options regarding a Master's thesis in physics working with research groups at the Department of Physics and Astronomy, go to their respective web sites.
Forms of teaching
At the University of Aarhus, you are in close contact with researchers in a way that you rarely experience at other universities. The door to the professor's office is always open if you need clarification of the study material, and you are encouraged to ask questions at lectures and during exercises. We make heavy demands on your academic skills and independence. In return, you gain considerable benefits in the form of academic challenges and scientific knowledge, in addition to broad competences.
The teaching at the university is based on independence, critical thinking and collaboration. Part of the teaching is in the form of lectures that introduce new angles to the material compared with the textbooks. The theoretical and experimental exercises take place in groups where you study relevant issues in depth.
The varied forms of teaching, collaboration in groups and the opportunity for close scientific dialogue with the researchers provide you with general competences that are in great demand in the global job market. These competences include abstract, critical and independent thinking, analytical skills and strategic planning. You can use these skills in many contexts – even in jobs you didn't know you were qualified for.
The teaching is divided into two semesters each year. For an example of a course calendar, click here.
PhD programme
If you have the necessary skills and interest, you have the option of applying for admission to the PhD programme. You can apply when you have completed your Bachelor's degree and one year of your Master's degree or when you have completed your Master's degree. In the PhD programme, you start working on a research project and are gradually trained through courses and personal guidance to become a researcher. Click here for more information about the PhD programme.
Academic regulations

In recent years, much effort has been made to create a good student environment at the Department of Physics and Astronomy – as regards the working methods, social environment and facilities.
When you write your Master's thesis in one of the department's research groups, you can get your own desk in an office that you share with other students.
The many enthusiastic and active students have an impact on the study environment at the Department of Physics and Astronomy. The social and academic associations at the department have festive traditions and organise events such as a hat party and a picnic, which represent a pleasant change from the daily routines.
The department's Friday bar – Fysisk Fredagsbar – opens every Friday at 16.00 and occasionally offers special events with a theme. Mads Føk is the name of a joint newsletter for mathematics and physics students. This newsletter is normally published 8–9 times a year and includes a wide range of contributions – including a calendar. The newsletter tries to publish up-to-date information about events at the departments. Fysikshowet (the Physics Show) was started by students at the Department of Physics and Astronomy and is now organised by a team of around 20 students at the department. The show presents a thought-provoking, entertaining discussion for 1–2 hours of a number of physical phenomena – both from our everyday lives and the more extreme conditions we can create in the laboratory. The PS! Personale og Studerende ved IFA (PS! Staff and students at the Department of Physics and Astronomy) association organises a Christmas lunch and a theme evening. Tågekammeret (the Cloud Chamber) is the name of the social and lecture association at the Faculty of Science at the University of Aarhus. In addition to organising celebrations and lectures, the association has a meeting room that is used as a social meeting point for students of mathematics and physics – an oasis where you can eat your lunch, relax between lectures or enjoy a soft drink or a beer. UNF (the Danish Youth Association of Science) promotes familiarity with science – particularly among young people – by organising lectures, study visits, study groups and study tours.
Campus – a unique place
The University of Aarhus is unique, especially because the buildings are grouped in one campus area close to the Aarhus city centre. The campus has many green areas and a beautiful park surrounding a small lake. Here you also find student accommodation and an underground system of corridors, which means that you don't have to get your feet wet feet going from the canteen to your study area. There are also lecture theatres and a host of activities ranging from sports days to the regatta on the lake, interesting lectures, a film club, libraries and university celebrations. The campus ensures that you have easy access to the canteen, student counsellors, teachers, the bookshop, the State and University Library and the Friday bar.
Aarhus as a study centre
The university is not all Aarhus has to offer. As the second-largest city in Denmark, Aarhus has numerous different cultural activities. The well-known Aarhus Festival is celebrated for a week at the beginning of September every year and the streets really come to life. During the rest of the year, you can visit different music venues and concert halls in the city or find entertainment at one of the many theatres in Aarhus. The city's many museums include ARoS – the major international art museum, which is a spectacular place for visual experiences. If you have had enough of cultural activities, you can ride your bike to the beach in no time or go for walks in the Risskov woods or in the beautiful woods around Marselisborg. The forty thousand young students in Aarhus make up 17.5% of the population, which leaves its mark on city life. Aarhus is a young, dynamic city with plenty of opportunities.
Follow the student life at Aarhus University
-experienced, photographed and filmed by the students themselves.
With thousands of pictures #AUInternational, #AarhusUni gives insight into the everyday life as a student at AU; the parties, procrastination, exams and all the other ways you'll spend your time at university.
The photos belong to the users, shared with #AUInternational and #AarhusUni.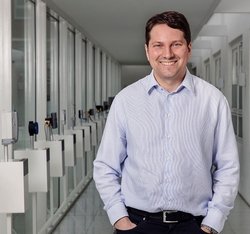 Mads Wraa Hyttel, M.Sc. in Physics, Aarhus University
When studying Physics at Aarhus University, I found the many different elective courses to be a great advantage – this gave me the possibility to choose courses matching my interests and career plans. Therefore, at the beginning of my Master's degree programme, I chose as many elective courses as possible within the fields of physics related to the industry – for example, materials and laser physics – and I decided to specialise in experimental physics. I like combining theoretical and practical challenges, and therefore working with experimental physics was the right direction for me.
During my Master's programme, it was important for me to study abroad, and I therefore went to the USA on the first semester. This was a great experience, both in terms of the academic challenges and the social activities. In the USA, I had the experience of working in the laboratory with a research group focusing on optical materials. It gave me a lot of new knowledge to work within another culture and a different setup than I was used to.
I carried out my Master's thesis in collaboration with Danish Technological Institute examining surface coatings for cutting tools. I produced the coatings on Danish Technological Institute and then I analysed them at the university. Working on my Master's thesis, I gained experiences about collaboration and development of new knowledge, which have been useful for me later on in my career.
In my job today, I work as product manager for all temperature sensor products at Kamstrup. Being the product manager, you are the link between a wide range of functions in Kamstrup, including sales, production, quality assurance, and technology development. This gives my daily work a great variation of different tasks, where I draw on my knowledge from Physics – typically within thermodynamics, electromagnetism, mechanics, and materials science. For example, I ensure that our temperature sensors always comply with the most recent type tests, and I also present our test results at conferences.
During my day at work, I often have to quickly familiarise myself with complex technical issues and understand the consequences of a given change. This is also something I have learned through the theoretical and experimental exercises in my Physics programme. I am also responsible for producing data sheets and training sales persons in our temperature sensor products, which gives me an opportunity to use my experience with communicating academic information.
I also have a number of other tasks; for example within constructing our product portfolio, product pricing, and identifying new customer needs – which is actually a bit out of my academic field, but my analytical approach and ability to learn new stuff come into good use.
Job functions for grads
The chart shows the five most common types of work for graduates 1-2 years after finishing their degree. The data is derived from a survey made by Epinion for the Ministry of Higher Education and Science and Aarhus University in 2020.
Competence profile
With a Master's degree in physics, you have the following competences:
You have general knowledge of physics and detailed knowledge of key disciplines, methodologies, theories and concepts within physics.
You can independently plan, manage and implement projects and apply the results in scientifically relevant decision processes.
You can assess the applicability and appropriateness of theoretical, experimental and practical methodologies for the analysis and solution of scientific questions and issues.
You can structure your own competence development independently and critically.
You are able to systematically and critically familiarise yourself with new subject areas.
You can communicate academic questions and issues to both a scientific and a general audience.
You can collaborate constructively on a scientific basis to solve subject-related issues.
Job profile
The University of Aarhus educates physicists for a wide range of jobs, and graduates from the Department of Physics and Astronomy are employed in many different job areas and institutions.
A large part of the graduates work with research and development in highly specialised companies in the business community, where they can use their insight into subjects like modern optics, material physics, surface physics, etc. In recent years, it has also become more and more common for large IT companies, patent agencies and the financial sector to increase their staff to include one or more physicists.
The teaching sector also employs a large amount of graduates, mainly for teaching at upper secondary school or training colleges. If you would like to teach at upper secondary school, you must supplement your Master's degree in physics by taking additional qualification packages to gain teaching proficiency in one more upper secondary school subject.
In recent years, the number of graduates employed as physicists at hospitals has increased dramatically. Most work primarily with radiation physics in connection with radiation therapy, but it is possible to specialise in many other areas.
Finally, a number of physics graduates enrol in a PhD programme, typically as PhD students. An increasing number of graduates go abroad, where they mainly work in research positions in either the business community or public research institutions, e.g. at universities, CERN, the European Southern Observatory (ESO) or the European Space Agency (ESA).
The rate of unemployment among physicists educated at the University of Aarhus is very low.