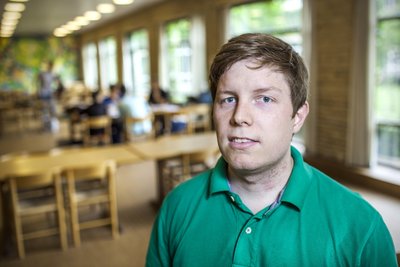 During my MSc studies I worked as a student teacher, which means that teaching now comes naturally to me. I've got used to being in front of a group and presenting material in a way they can easily understand. It's been an enormous help in my present job. I also make great use of the academic skills I gained in my studies, such as an analytical way of thinking, a systematic working method and the ability to solve problems.
Anders Høj Sørensen
Graduate, MSc in Mathematics – Economics
Consultant, Trapeze Group Europe
---
Have you thought about how rates for a new mortgage loan should be fixed – with an interest-rate ceiling or as interest-only loans? In fact it was mathematics–economics graduates who developed the model used for fixing the cost of such loans. All major companies face complex problems, and many turn to a mathematics–economist when they do. Mathematics–economists are experts in designing optimisation strategies, something that requires great theoretical insight into both economics and mathematics.
As a student of mathematics–economics, you have the option of specialising in a subject within a broad area, including one of the areas of mathematics–economics in which Aarhus University is particularly strong: mathematical finance, economics, and operations research.
Structure of the degree programme
The MSc in Mathematics–Economics programme is taught at the Department of Mathematics and the Department of Economics and Business. It counts as 120 ECTS credits. Students specialise through course activities and projects and through a thesis. In the first week, students structure their own individual study programme with the help of a lecturer by choosing courses from a course catalogue. The programme is designed on the basis of each individual student's academic qualifications, interests, and subjects studied at BSc level. The study plan must be approved by the board of studies before the student can register for exams.
Study trips and festive traditions
The study environment for mathematics–economics has a reputation for enthusiastic, active student involvement. The social and academic associations at the department keep up a number of festive traditions and organise many events. These include company visits and study trips, alternating annually between trips abroad and trips to Copenhagen.
Career profile
Job prospects for mathematics–economists are extremely positive and career opportunities are many. A large proportion of our graduates find work in the private sector. Banks and insurance companies are the major workplaces for mathematics–economists, with many being employed as problem-solvers in consultancy and telecommunications companies. Planning departments in large industrial or manufacturing companies also represent a relevant job market. In the public sector, there are jobs in administration and planning at universities and other educational institutions, on supervisory boards and in ministries. The degree programme also qualifies graduates for a career as a researcher.
The following Bachelor's degrees qualify students for admission to the Master's degree programme in Mathematics-Economics:
A Bachelor of Science degree in Mathematics-Economics from Aarhus University, the University of Southern Denmark or the University of Copenhagen.
A Bachelor of Science degree in Mathematics from Aarhus University with elective subjects in Mathematics-Economics (e.g. financing, operations research, economics) equalling a total of 50 ECTS credits corresponding to one of the recommended course combinations, which qualifies for the Master's programme in Mathematics-Economics. Depending on the courses in the Bachelor programme there can be specific requirements for the course combination in the Master's programme.
Other bachelor's programs or similar qualifications can give access to the master's program in mathematics and economics, if, according to the university's assessment, these correspond in level, scope and content to the programs mentioned above, which can normally be assumed when the qualifying programs include courses in
mathematical analysis (min. 20 ECTS),

linear algebra (min. 10 ECTS),

national economy (min. 30 ECTS, of which at least 15 ECTS in microeconomics and at least 10 ECTS in macroeconomics),

optimization or operations analysis (min. 10 ECTS),

business economics, finance and accounting (min. 20 ECTS, e.g. 10 ECTS in accounting and 10 ECTS in finance),

statistics (min. 20 ECTS),

(advanced) probability theory (min. 10 ECTS),

integral and measure theory (min. 10 ECTS),

programming language (min. 10 ECTS).
Upon admission further requirements regarding composition of the degree programme may be stipulated.
Language Requirements
Since English is the language of instruction in all subjects, all applicants are required to provide evidence of their English language proficiency.
Please see the page on language requirements.
Documentation Requirements
Please see the general admission requirements.
The Master's degree programme in mathematics–economics is taught at the Department of Mathematical Sciences and the School of Economics and Management and counts as 120 ECTS credits. You specialise by participating in course activities and projects and by writing a thesis. During your very first week, you structure your own individual study programme with the help of a teacher by choosing courses from a course catalogue. Your programme is based on your academic qualifications and interests and the subjects you studied for your Bachelor's degree. The plan must be approved by the Board of Studies before you can enrol for examinations.
For more information about the individual courses, go to: kursuskatalog.au.dk/en/
Academic regulations
Forms of teaching
At the University of Aarhus, you are in close contact with researchers in a way that you rarely experience at other universities. The door to the professor's office is always open if you need clarification of the study material, and you are encouraged to ask questions at lectures and during project work. We make heavy demands on your academic skills and independence. In return, you gain considerable benefits in the form of academic challenges and scientific knowledge, in addition to broad competences.
The teaching at the university focuses on independence, critical thinking and collaboration. Part of the teaching is in the form of lectures that introduce new angles to the material compared with the textbooks and give you a general overview of the subject. You also receive extensive guidance when working with examples and projects.
The varied forms of teaching, collaboration in groups and the opportunity for close scientific dialogue with the researchers provide you with general competences that are in great demand in the global job market. These competences include abstract, critical and independent thinking, analytical skills and strategic planning. You can use these skills in many contexts – even in jobs you didn't know you were qualified for.
The teaching is divided into two semesters per year. For an example of a course calendar, go to: studerende.au.dk/en/studies/subject-portals/studies/teaching/teaching-calendar/
PhD programme
If you have the necessary skills and interest, you have the option of applying for admission to the PhD programme. You can apply when you have completed your Bachelor's degree and one year of your Master's degree or when you have completed your Master's degree. In the PhD programme, you start working on a research project and are gradually trained through courses and personal guidance to become a researcher.
For more information, go to: phd.au.dk/gradschools/scienceandtechnology/