Study programmes at all Danish universities are research-based and analytical with a special focus on theory. They provide a broad academic foundation as well as the opportunity to specialise.
The degree structure is linked to the Bologna process and is based on three main levels: Bachelor's, Master's and PhD degrees.

Master's degree programmes at Aarhus University are full-time programmes and require physical presence at the university.
We do not offer any distance learning or online programmes.
The Master's degree is awarded after two years of graduate study (120 ECTS) following a relevant Bachelor's degree (180 ECTS).
Master's programmes qualify students for the labour market or for continuing their academic careers at doctoral level. Independent research activities are an important aspect of the Master's programmes.
The Master's thesis is a major requirement which normally requires six months (in some cases 12 months) of full-time study. Graduates are awarded the title Master of Arts (MA) or Master of Science (MSc).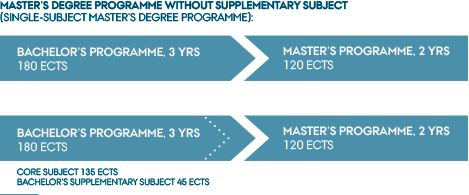 Some of the Master's programmes – primarily those taught in Danish – consist of a core subject and a supplementary subject to match the supplementary subject taken at Bachelor's level.
The Erasmus Mundus Master's degree programmes are a part of the European Commission's educational initiatives to promote cooperation and mobility in the field of higher education. The Erasmus Mundus Master's degree programme is a two year full-time (120 ECTS) degree programme which is offered by Aarhus University in collaboration with partner universities in both Europe and third countries.
The Erasmus Mundus Master's degree programme offers you the possibility to complete parts of your studies at Aarhus University as well as at least one other university abroad. The degree awarded at the end of the programme can be a double degree, a joint degree or a multiple degree depending on your mobility track.
Currently, we offer the following programme(s):
Together with three European partner universities, Aarhus University have developed the double degree programme
The programme offers an education related to all aspects of the organic sector plus the possibility to specialise in the distinct profiles offered by the partner universities.
Students completing the Master's programme in Organic Agriculture and Food Systems at two of the partner universities will be awarded a full Master's degree from both universities. Students can also choose the single degree track option and complete the whole Master's programme at one university.
The SDC Master's degree programme in Neuroscience and Neuroimaging is developed by active researchers from both Denmark and China – uniting the most recent research, modern technology, and problem-oriented learning methods.
At AU, students who are particularly well qualified can begin a PhD programme even before they finish their Master's degree. Alongside traditional three-year PhD programmes commencing after two years of Master's studies, a number of attractive four and five year PhD programmes can be accessed either one year into the Master's programme (the 4+4 model) or immediately after the Bachelor's degree (the 3+5 model).

For further information regarding PhD studies, please contact the Graduate Schools at the four faculties.